It's tough for me to think that this wasn't some type of campaign stunt.
Standing in front of a green screen as a national figure is just the type of stuff that Reddit's r/photoshopbattles loves.
But that's what Jeb(!) Bush did.
Gone too soon…
The camera-wielding hiker fell 8 meters, but luckily no one in their party reported any serious injuries.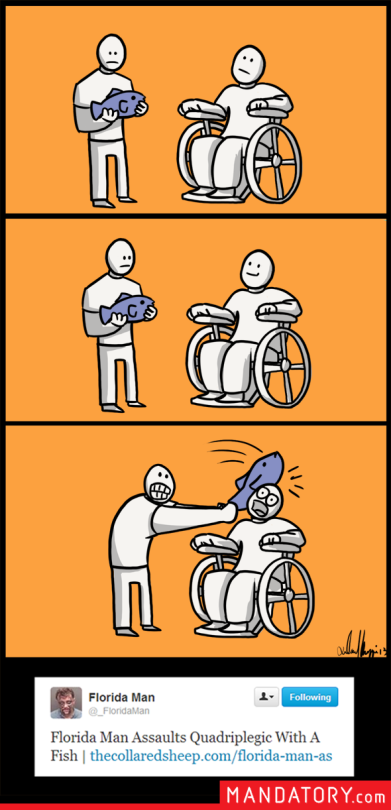 America's Dong, Florida surely provides a terrific territory for hijinks and fortunately for us, Mandatory has compiled these great comics drawn by Dave Rappoccio showcasing one of the weirdest superheroes out there, Florida Man. Rumor has it that newspaper headlines supply him with powers of unknown strength in his battle against sound logic.
Crop your photos, people.
This couple thought they were letting people into their personal lives by announcing their engagement over Facebook.
But there was more to the photo than initially met the eye and their family was quick on the uptake.
Break found the slip up:
After bride-to-be Miranda announced that her man had finally popped the question, it seemed that their world could be nothing short of a fairy tale. I mean, everyone woman lives to announce their engagement on facebook it seems. Hilariously enough, that magical moment didn't really seem to be the case because Miranda had already accidentally tipped off her friends to look a little closer at the photo. She stated that her boyfriend didn't give her an actual ring, assuring everyone it will come later, which did nothing other than make people lean in a little too close to check out that ring.

And that's when everyone also started noticing the weird box in the corner.
Yeah, that box? It was a pregnancy test.
The scene played out over Facebook comments and you can easily imagine the happy bride-to-be put the pieces together.
And then, the admission.
Congratulations to the happy couple!