This is one for the books. Mitsy at Artmind is a genius. I've had this tutorial bookmarked for a few weeks and I was thinking today this would be a real fun way to have a company drawing at a party! Or what if you made a bunch of these and sent them out to your customers. I don't know. I think I am just excited that we can make these ourselves!
Here's the tutorial from Artmind [Thanks Mitsy!]:
Here is what you need:
cardboard, a print-out of your lottery ticket, glue stick, sticky back plastic, metallic acrylic paint (preferably silver) and dish soap.
I prepared the paper cutting beforehand so I'll skip that part in the tutorial.
Beforehand you print out a design that you want to be on the scratch off lottery tickets.
If your printer can take thick paper you can print it directly on the cardboard and skip this part. If you do it in two steps, it is nice to get a fun color background paper and glue the design onto the card.
Then you take a piece of sticky back plastic and put it onto the design
Make sure that the picture underneath the paint is hidden. Add another layer if this is not the case.
Mix some metallic acrylic paint with washing liquid. Try to use 1 part washing liquid and 2 parts of paint. Mix the substance.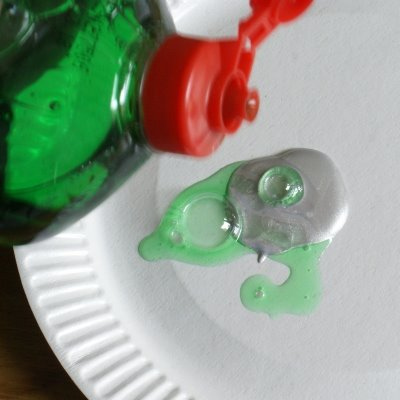 Paint the plastic part on the ticket and let it dry.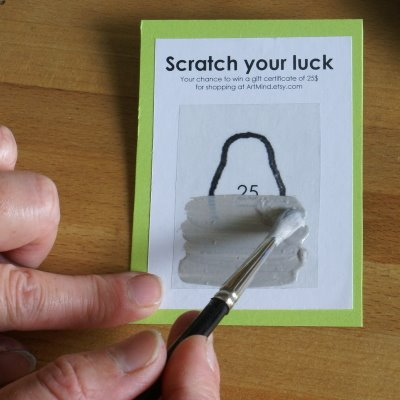 And then… scratch! Oops, no luck for me!

Now's the time to have a little fun. Take all the old computer equipment you have sitting in the corner, give each item a number, and give everyone scratch tickets. You accomplish 3 things. 1) Make people feel excited about working 2) Get rid of all that junk in the corner 3) Someone else will be carrying it out because they won it, not you. (Last is definitely most important)