Almeda Errell (71) and Gary Hardwick (now 18) were married just three weeks after meeting at Almeda's son's funeral.
Gary, who's previous girlfriend was 77, tied the not to his "dream woman" in a ceremony he arranged for just £137 in six days.
The romance was first really recognized both sat next to each other at a Chuck E Cheese's for his aunt's daughter's birthday. From then on, they started seeing each other every night, and got the blessing of most friends and family.
Aaron Chervenak took his relationship with his cellphone to the next level and got married to it last month. The two eloped at the Little Vegas Chapel in Las Vegas.
"In a sense, my smartphone has been my longest relationship," he said. "That's why I decided to see what it was like to actually marry a phone."
Being a nurse might be one of the most under appreciated jobs there is.
Philip Urtz sees his wife come home and unwind after arduous 14-hour shifts and can't help but feel for her. Jessica (his wife) is always coming home during the late hours of the night. Making it difficult to arrange a proper sit down dinner. Because of this Philip decided to write a touching note to let his wife know he understands the struggle.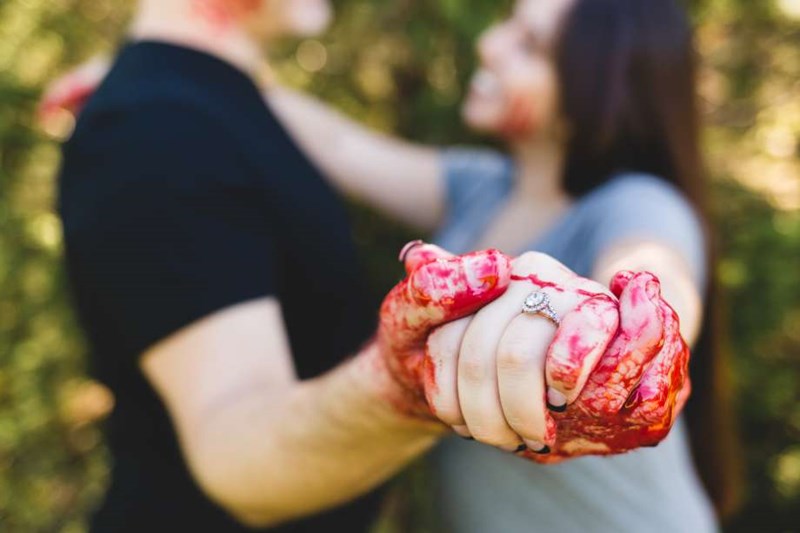 Shi Jaramillo and Patrick Reetz decided to break the mold of the stereotypical engagement photo shoot by hiding a body together in Austin's Zilker Park, Texas. The "body" was a life-size doll named Jorge, who was carefully wrapped up in a garbage bag.
"What is the most trustworthy thing to do with your significant other?" Jarmillo said. "To have to hide a body together. You kind of get tired of seeing the same old pictures on Facebook and we didn't want to be stereotypical."
Shane Birkinbine of Bentonville, Ark., used "Super Mario Maker," to pull off all the stops in his pursuit toward marrying the love of his life. For those unaware, "Super Mario Maker" lets users create levels.
Birkinbine configured the levels to propose to his girlfriend Pam Edwards. As Brikinbine's girlfriend Pam Edwards played through the level, he directed her on how to proceed…
"It spells out your name, I think?" he says.
"How did you do that!" she shouts as the words "Pam, will you marry me? appear in blocks across the screen.
Edwards said 'yes' quickly followed by 'of course.' Birkinbine sealed the perfectly tailored proposal by presenting the ring on a mushroom.