Nobody is more proud of British gold medal swimmer Adam Peaty than his grandmother Mavis.
Adam Peaty won gold in the 100 meter breaststroke and set a new world record of 57.13 seconds this weekend. And while most grandmas were at home struggling with the remote, Grandma Mavis was gaining thousands of Followers on Twitter.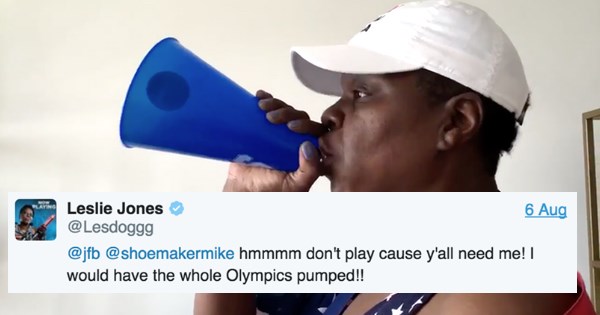 Saturday Night star Leslie Jones has resurfaced on Twitter just in time to live-tweet all the action of the 2016 Olympics.
Leslie Jones is taking on every Olympic sport and rooting on team USA with a terrifying passion. Her love of the Olympics has gained the attention of the Internet and has earned her a personal invite from NBC Rio Olympics producer Jim Bell.
We really hope this is not a joke. The Rio Olympics NEED a little Leslie Jones commentary
To be fair to the person who made the decision that there needed to be 75 lifeguards keeping an eye on the world's best swimmers, concussions and other accidents do happen. That hasn't stopped the internet jokesters from commenting on a picture of a bored looking lifeguard.
The shot where these guys all pull slices of pizza in synchronized fashion is a true work of art…
In the opening ceremony of the 2016 US Synchronized Skating Championships, ice skaters Dean Copely and Tim McKernan dressed up as Chazz Michael Michaels and Jimmy MacElroy, two characters from the movie "Blades of Glory". They performed a version of the film's 'Fire and Ice' routine.
You can watch the routine from a better angle in this video from the network taping the routine:


via icenetwork
And just for comparison, here's the routine from the 2007 movie, 'Blades of Glory':