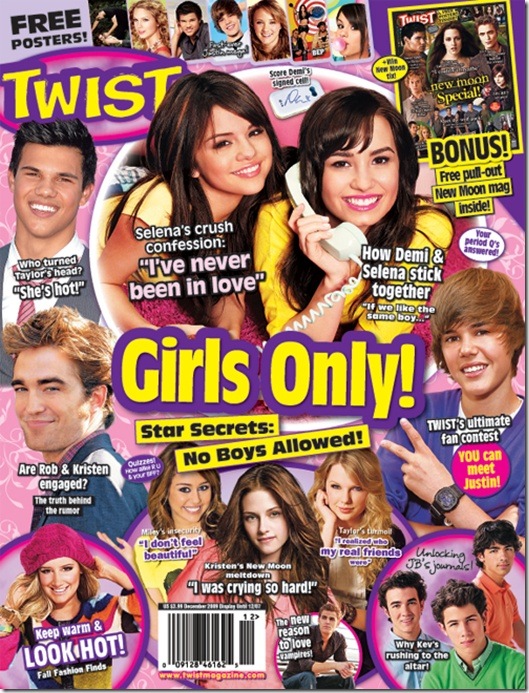 No boys are allowed to get their hands on this issue of TWIST! We got your fave stars to open up and bare their souls for our Girls Only! issue, hitting stands THIS weekend! Just look for the bright purple and yellow "Girls Only!" on the cover, and you'll instantly feel like you're besties with Demi Lovato, Selena Gomez and Taylor Swift!Here's a preview of what this issue is loaded with:
*Meet Justin Bieber — Prove you're his #1 fan!
*A TWIST Exclusive: A New Moon Pull-Out Mini-Mag!
*TWIST gets the truth on Robsten: Are they engaged?
*JB Confesses: "Guys Keep Journals, Too!"
*How Demi Dealt with Divorce
*Kellan: "Why guys like low Maintenance girls!"
*Selena Spills: "I've never been in love!"
*The Truth About: Period Myths!
*The Best Sweaters for Your Body!
*3 Ways to Wear a Thermal!
*TWIST on Tour: Boys Like Girls and Cobra Starship
*How to Throw a Star Slumber Party
*Embarrassing moments, scope cards, celeb signed prizes, personality quizzes, MEGA posters and MORE!
Looks like one incredible issue! Pick your up today.