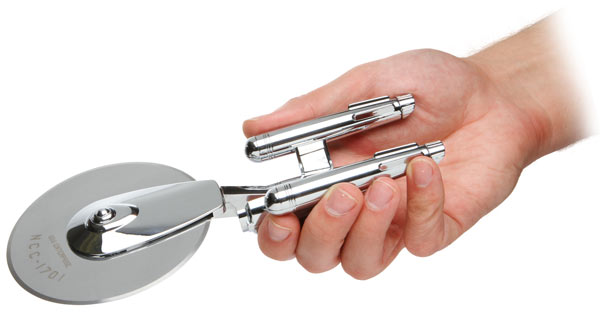 Available at Think Geek ($24.99)
Without argument, ThinkGeek's exclusive Star Trek Enterprise Pizza Cutter was the greatest culinary tool innovation of 2010. And now, you can win one of your very own! How, you ask?
We are holding TWO contests: one here on ROFLRazzi, and one on My Food Looks Funny.
– For ROFLRazzi, create a Star Trek-themed LOL. Submit via e-mail to roflrazzi@gmail.com.
– Alternately (or additionally!), for My Food Looks Funny, create and photograph a Star Trek-inspired food. It can be as simple as a Starfleet Command logo made out of crackers or as elaborate as Captain Picard carved out of butter. Submit via e-mail to myfoodlooksfunny@gmail.com.
The best submission on each site will win a ThinkGeek Star Trek Enterprise Pizza Cutter.
1. Contest Summary: We will select contest winners from people who email submissions between December 13, 2010, 12:00 pm PST to December 17, 2010, 11:59pm PST. The winner will be selected at the editorial discretion of Pet Holdings, Inc. ("Pet Holdings"). Our determination as to the winner is final.
Complete contest rules after the jump.

2. Eligible Participants: You must be over the age of 18 and a United States resident in order to enter. Neither you nor any of your immediate family members may be affiliated in any way with Pet Holdings or ThinkGeek. Limit one entry per site, per participant. Submitting entries through multiple accounts will disqualify you.
3. No Sponsorship: ThinkGeek is not affiliated with Pet Holdings and is not sponsoring this contest in any way.
4. No Spam/Compliance With Guidelines: All entries must comply with Pet Holdings community guidelines. Pet Holdings reserves the right to delete or disregard entries that are inappropriate or that do not comply with its content and community guidelines.
5. Use of Entry Materials: You grant Pet Holdings permission to use (1) your name, (2) likeness, (3) any public account information, and (4) your entry materials, in any and all media, in connection with its announcement of the winner and in connection with any publicity Pet Holdings may conduct around the contest or around its sites or products. Subject to this modification, any personal/contact information you provide will be subject to the standard privacy policy of Pet Holdings.
6. FTC Disclosure Guidelines: To the extent winners post or publish reviews of any of the prizes, the winners must comply with the FTC's endorsement guidelines: "Guides Concerning the Use of Endorsements and Testimonials in Advertising: Notice Announcing Adoption of Revised Guides."
7. No purchase necessary.