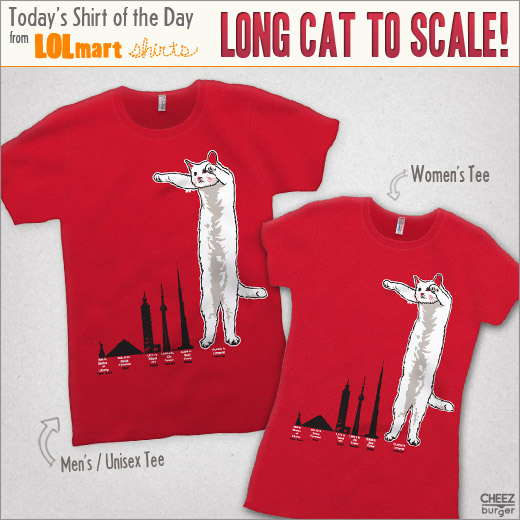 Today's LOLMart Shirt of the Day is available to purchase THROUGH SUNDAY ONLY, and then it will be gone forever!
Where have you been, ROFLRazzi?!?! LOLMart Shirts' Long Cat to Scale shirt has been available all week! You've waited until the last possible day! That's right, I said last possible today. Once today ends, our Long Cat shirt will no longer be available. This is so like you, ROFLRazzi, to wait until the very last moment.
Alright, so maybe you've been busy with all of your holiday dos, but is that really any excuse? If you'd paid close attention, you could have purchased a limited edition Long Cat shirt as a holiday gift for a friend. As it stands now, you can really only order belated holiday presents.
Not that I would discourage you from doing just that. In fact, belated holiday gifts are often the best, because they come at a time when one is often sadly wondering, "When will be the next time someone buys me a gift?! My birthday?! Gosh, life is so hard!!!"
Our Long Cat shirt would make the best belated holiday gift, even if it's a gift to yourself.
Well, now, I guess I'm kind of glad you procrastinated. This is kind of nice.
LOLMart t-shirts are priced at only $15 (that includes FREE US ground shipping!) and make the perfect holiday gift for a friend (or for yourself).