You may or may not have heard…we have a BRAND NEW WEBSITE!  We're excited about it and hope you are too! We've been working extra hard (lots of weekends) to bring you the best version of Shoplet – one that's clean, cheerful, organized, etc etc. In case you haven't had time to check out the site, here's a few features you may want to try out:
New Search Engine


After pouring through hundreds of thousands of searches by our users and carefully tracking their behavior we completely redesigned our search engine to provide the most relevant results possible.
Ink & Toner Finder


We have worked with our suppliers to offer one of the largest selections of ink and toner available anywhere online. Our Ink & Toner finder will allow you to quickly and easily find the ink you need by either manufacturer or product name.
Comparison & Bulk Pricing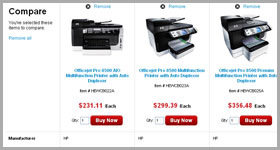 Many of our customers prefer to buy products in large quantities. We have worked closely with our manufacturers to provide our customers with the best possible pricing by offering them bulk discounts.
After speaking with our customers they told us they were looking for a way to compare several similar products to find the distinct differences between like items. As a result, we developed a new comparison feature to easily browse items side by side.
Quick Order Form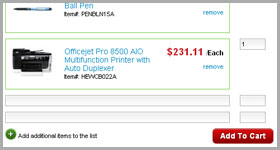 Our customers are constantly looking for the fastest way to get what they need and get on with their day. The Quick Order form enables users to quickly punch in the SKU's for the products they need and head straight to checkout. In less than 5 minutes you can add your items, go through checkout, and get back to work – it sure beats waiting in line!
Product Reviews


Another feature that was added as a part of the site design was the ability for our users to add reviews. No one knows the ins and out of our products better than our customers who use them everyday.
Enhanced Account Center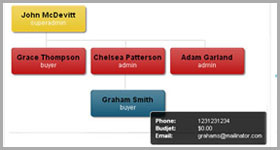 The account center is one of our most popular and powerful features. Customers can easily create additional users in their company, set budgets, create lists of approved items for purchase and view spending reports. By using the re-order button, customers can take advantage of our easy ordering process. They can login, click a few buttons and checkout in less than 5 minutes.
—–
Did you think that was all? Our site is packed with easier ways to search, compare, and purchase office supplies. Check out THIS PAGE to see other great features and visit our site to see the whole deal!
P.S. We love feedback. We urge you to comment below with your thoughts, suggestions, and advice for the new site!