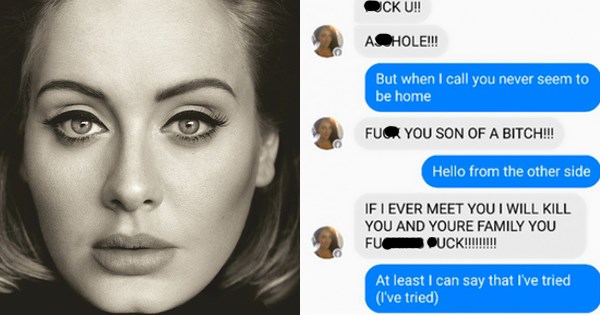 A sexy looking Facebook scammer tried to seduce him but Reddit user sebastiankirk (real name Frank Flemming Jensen) was not having it.
Instead, Frank decided to respond from the other side with lyrics from Adele's hit song "Hello".
Sandra seemed completely oblivious up until the point where she LOST HER DAMN MIND and started making death threats.
Yikes…. some scammers can't take a joke.
(h/t dailymail)
Adele took the opportunity to take a selfie with a doppelgänger.

'The Late Late Show' host skips cross the pond to break out the hits with one of the world's most coveted artists, Adele.


The young lady's vocals are on point in this video, and a flat out testament to her unrivaled talent. Part of me's puzzled over the fact James Corden remains relatively composed and doesn't simply up 'n melt down into a puddle of tears from behind the wheel. Kudos Mr. Corden, kudos.


Not only would anyone in their right mind lose their minds and sh*t their pants at an opportunity to road trip with Adele; but she seems genuinely enjoyable to hang out with, which makes the whole scenario seem too good to be true for anyone. Anyone. Yes, for an artist, a legend of the industry, to demonstrate such a down-to-earth vibe isn't something you see everyday.


And of course Nicki Minaj let loose a thankful shoutout to Adele as well!