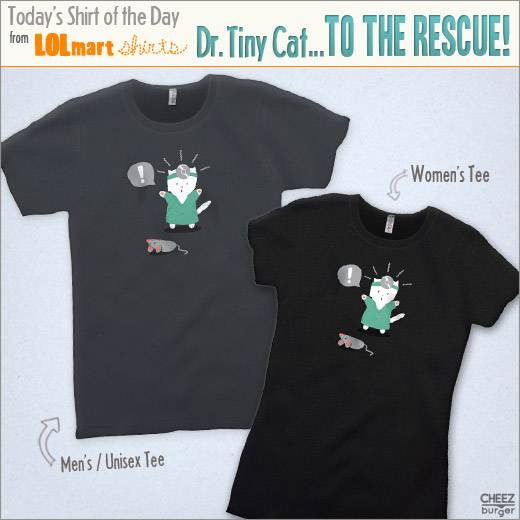 Today's LOLMart Shirt of the Day is available to purchase THROUGH SUNDAY ONLY, and then it will be gone forever!
With healthcare being a top issue these days, we figured there was no better time to introduce our Dr. Tiny Cat t-shirt. So here it is! Let's all give a warm welcome to Dr. Tiny Cat!
Medical school is hard. Like, really hard. I know this because I've seen parts of Grey's Anatomy, and it looks hard. It seems as if becoming a doctor involves suffering through all sorts of unrealistic emotional traumas. Hard!
But Dr. Tiny Cat has triumphed over the process. And at such a young age, too! Now, he's a real doctor. That, in and of itself, is a real accomplishment for a creature that doesn't even have opposable thumbs (which makes holding a scalpel pretty impressive!). What may be more impressive is just how much he cares. Look at how concerned he is about that mouse! And it's only a stuffed toy! Imagine how invested he'd become for a patient with a pulse!
Congrats on all your hard work, Dr. Tiny Cat! As a reward, we're honoring you with a spot on one of our limited edition t-shirts.
LOLMart t-shirts are priced at only $15 (that includes FREE US ground shipping!) and make the perfect holiday gift for a friend (or for yourself).